Zoning for a Diverse Housing Stock
One of the most fundamental ways to increase affordability is by allowing more housing to be built in your community. This can be done by increasing the variety of housing options (duplex, triplex, and quadraplex) and reducing production costs, something communities can achieve with their zoning and land-use regulatory powers.
Often a development site can absorb higher density than is allowed by right or provided for by special permit. Given the preference of many young people and families, or baby boomers who want to downsize, a market for this kind of housing exists in many places in Massachusetts, especially in Greater Boston. Demand may come from older, long-term residents who want to stay in the community or those for whom location is the primary concern. Provisions in zoning and subdivision regulations for accommodating multi-family homes can enhance housing affordability, accommodate greater diversity of needs, encourage more revenue-balanced growth, and improve land use. Cluster zoning, open space residential design, planned residential developments and conservation subdivisions represent various forms of flexible zoning that can be used to increase the community's affordable housing stock.
How does a community zone for various housing locations and types?
Creating a community with a variety of housing types, sizes, and locations can be achieved as a matter of right or by special permit in accordance with the state's Zoning Act. Options include:
allowing new residential and mixed-use developments with alternative site patterns (e.g., flexible development or clustering) and/or a variety of housing types (e.g., detached single-family, townhouse, duplex, garden apartment)
providing density bonuses or other forms of zoning relief in exchange for including some affordable units
re-legalizing historic housing forms (duplex, triplex, or quadraplex) in all residential areas
establishing zones where multifamily housing is allowed by right
zoning by right for open space through open space residential design (OSRD), used fairly frequently for conservation subdivisions.
These techniques can lead to reduced construction costs, more efficient land use, and greater housing choice, but they may not produce more income-restricted affordable units without an inclusionary requirement.
Zoning overlay districts
Overlay districts are zoning districts that have been superimposed over existing districts, in accordance with the Zoning Act, to create new requirements and opportunities. They are often used to protect sensitive environmental features, such as aquifers and wetlands, to promote the adaptive reuse of historic properties, and to allow greater flexibility or additional uses, particularly with residential or commercial use. Overlay zoning can be an effective tool for promoting affordable housing by encouraging higher density or mixed-use development.
Where are overlay districts appropriate?
Overlay districts have been used widely for preservation, family rental housing, senior housing, assisted living, and artists' live/work. These ordinances add diversity to housing stock and can increase affordable units in a mixed-income setting if they have an inclusionary mandate. They can be especially effective for infusing new life into nonresidential areas by encouraging adaptive reuse of functionally obsolete properties. In times of strong economic activity, the availability of tax credits for both low-income housing and historic preservation can make rental housing an especially attractive reuse for mills, schools, churches, and other properties.
CHAPTER 40R SMART GROWTH HOUSING AND ZONING PRODUCTION ACT
In 2004, Massachusetts enacted the Smart Growth Zoning and Housing Production Act (Chapter 40R), permitting the creation of overlay districts that encourages zoning for compact residential and mixed-use development in "smart growth" locations by offering financial incentives and design control. Chapter 40R provides incentives to communities to codify smart growth overlay districts that include a by-right mix of uses and affordable housing at higher densities. The legislation encourages cities and towns to zone for compact residential and mixed-use development in "smart growth" locations by offering financial incentives and control over design. Overlay districts established pursuant to Chapter 40A and smart growth overlay districts established pursuant to Chapter 40R are voluntary and may have similar affordable housing components. Chapter 40R, together with Chapter 40S, offers financial incentives to any community that establishes a Chapter 40R smart growth district.
Advantages of creating zoning under Chapter 40R
Proponents see Chapter 40R as a way to attract developers, increase housing production, and ultimately bring down housing costs by creating zones pre-approved for higher density development. Together with Chapter 40S, it addresses municipal fiscal and design concerns, as well as developer concerns.
It is unique in providing for direct cash payments to cities and towns that create zoning overlay districts to meet certain location and procedural standards. Localities become eligible for a zoning incentive payment when they adopt the overlay and a density bonus payment ($3,000 per unit) if and when units are built. There are no restrictions on how municipalities use their Chapter 40R payments. For guidance on crafting a smart growth overlay district bylaw, check out this "Chapter 40R Local Zoning Bylaw Guidance Document".
Chapter 40R Requirements
The district must be in a "smart growth" location.
The district overlay allows housing to be built as of right at densities of at least 4 to 20 units per acre, depending on the type of housing.
At least 20% of the new units are affordable.
Communities must set detailed design standards for projects built in the districts.
Chapter 40R Benefits
Communities can reject projects that don't meet the standards. (To address fears about school impacts, a companion law offers "school cost" insurance.)
Communities can receive zoning incentive payments from state once they approve a 40R district
Developers have a more certain approval process.
Districts have allowed uses by right.
There is a 120-day deadline for project approvals.
Denials are allowed only for non-compliance with the bylaw or design standards (or for significant impacts that can't be mitigated by suitable conditions).
Communities that have not met affordable housing goals have an alternative to the comprehensive permit process.
Find more information, community examples of 40R districts, and contact info for technical assistance on DHCD's Chapter 40R page.
Mixed-use zoning
Planning new mixed-use districts or allowing housing in non-residential zones can encourage more efficient use of infrastructure and promote better access to employment opportunities and services. Local governments can allow a mix of residential and commercial uses in new development through rezoning, overlay districts, planned unit development, Chapter 40R districts, and Chapter 40B comprehensive permits. Most new mixed-use development targets the high end of the market, making inclusionary requirements necessary to ensure a level of affordability.
Where is mixed-use zoning appropriate?
Traditionally an urban concept, providing housing—especially affordable housing—near job opportunities, services, and existing infrastructure, can be a smart-growth strategy in any community. It may be particularly appropriate in areas where market conditions have changed and existing or planned commercial uses are no longer viable. Overall planning objectives, as well as health, safety, and environmental considerations, must be weighed in each case. Combining residential and commercial uses in one zone generates economic activity—a key component of smart-growth community sustainability.
Residential and live/work uses in commercial districts
Encouraging mixed-use redevelopment—a combination of residential, commercial, institutional, and retail uses—is another revitalization strategy that makes sense economically, politically, and environmentally. Local governments may allow mixed-use redevelopment by right or by special permit, in specific districts or by overlay zoning. Live/work arrangements, such as art studios, require additional integration of zoning and building regulations, because both are mixed-use and mixed-occupancy. Note that designating residential units as live/work must be flexible so that it does not discriminate or exclude those unable to work, such as disabled or seniors.
Development on substandard lots
Lots having less than the prescribed minimum frontage, width, yard, or depth requirements may be appropriate for affordable housing development, as long as the resulting use is not detrimental to the neighborhood. These sites often languish in tax-title and are eventually put into conservation without any consideration of alternative uses. Because such properties are sometimes suitable for development, communities are selectively developing the most appropriate ones for affordable housing. Approval for such development is typically granted by the local Special Permit Granting Authority (the planning board or the zoning board of appeals).
Accessory dwelling units
Interest in accessory dwelling units (ADUs) is often fueled by shrinking household size with an aging population and the difficulty in siting new development. Creating independent housing units within or among existing residential structures increases the supply of housing, improves affordability for current owners and new tenants, and has little or no impact on the character of the neighborhood. ADUs can be apartments in existing single-family dwellings, additions to homes, or converted garages, barns, and other outbuildings. They can be built as free-standing cottages and designed into new construction. Depending on how a community drafts its bylaw, ADUs can carry affordability restrictions or remain unrestricted, offering another source of market/moderate housing. It is important to consider what restrictions, in addition to the affordability restriction, to impose that support the community's housing goals but are not too onerous to homeowners.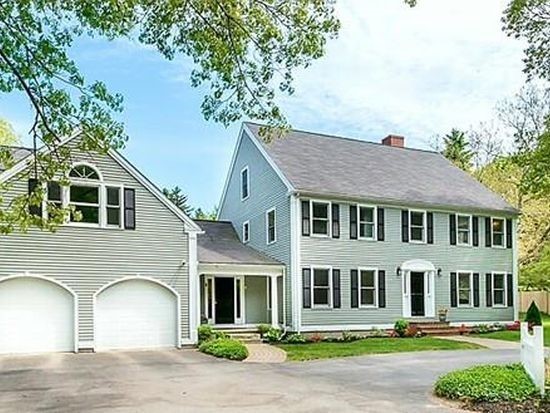 An accessory dwelling unit above a home in a North Shore home.
How are ADUs created?
ADUs can be allowed by right or by special permit, regulating unit design, ownership, tenure, parking requirements, etc., to ensure compatibility with local planning objectives.
If your community already has a bylaw regulating ADUs, familiarize yourself with it. If you are considering a new bylaw, first determine whether the primary goal is to create affordable units, which is done with an affordability restriction. If you choose not to include an affordability restriction, you will most likely be creating moderate housing at a lower price point than market-rate, single-family housing.
A community wanting to add units that count toward its subsidized housing inventory (SHI) must use a DHCD-approved bylaw. Additional steps are required to ensure that the units are up to code, occupied by income-eligible tenants at an affordable price, and rented on an open and fair basis—and will remain so over time. Contact Rieko Hayashi at the Department of Housing and Community Development for more information if you wish to create ADUs that qualify as Local Action Units (LAUs) through the Local Initiative Program (LIP).
Read this model bylaw to allow ADUs from the Mass. Smart Growth Toolkit to better understand crafting a new bylaw. Case studies from Lexington, Northampton, and Pelham are also featured in the Toolkit.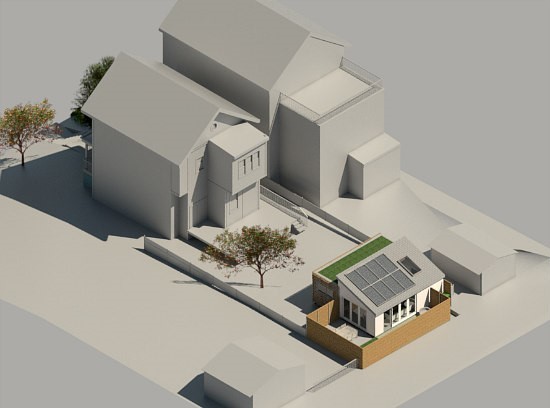 Rendering of a proposed detached ADU behind a home in Washington, DC.