5 Ways Easton, MA is Using DIF as a tool to promote Smart Growth and future investment in the Five Corners District
Background
What is the DIF Program?
District Improvement Financing (DIF) is a locally enacted revenue tool for municipalities established under Massachusetts General Laws Chapter 40Q. DIF allows a municipality to identify a development district and capture incremental tax revenue in the specific area from new private investment. The captured revenue is then directed, partially or fully, toward public improvements and economic development in the area. For more details on DIF and how it works, please visit MassDevelopment's DIF toolbox.
The Situation
It started at an Old Colony Planning Council monthly luncheon when Easton's Director of Planning and Economic Development, Stephanie Danielson, first learned about MassDevelopment's District Improvement Financing (DIF) technical assistance program. Danielson's started thinking about Easton's targeted growth area, Five Corner. She suggested a DIF District to the Town Administrator, Connor Read who immediately saw this as a way to help fund the second phase of sewer construction in the district. The first phase of the project, completed in 2016, moved forward when Avalon Communities agreed to pay the cost of bringing the sewer main from Mansfield to Easton, providing waste water treatment to their proposed 290-unit Local Initiative Project (LIP). Phase II, which will start in summer 2019 and be completed by the fall 2020 will open Easton up to many development opportunities, however, the estimated betterment fees for property owners and small businesses in the area were high so the town continued to look for potential funding sources to lessen this burden.
Although DIF is used primarily by larger gateway cities, Danielson realized it might be a solution for Easton. Working with MassDevelopment, the town unanimously voted in 2018 to fund Camoin Associates as a consultant for a DIF feasibility study for the Five Corners district. [1] The feasibility study, which included a market and financial analysis as well as several community visioning charrettes, confirmed that a DIF would generate enough revenue to offset the property owners' costs for Phase II and potentially capture additional revenue that could be used for other infrastructure improvements in the district. Danielson notes that that Camoin Associates' analysis was done very conservatively, so the potential for even greater revenue is possible. Furthermore, through the charrettes, the study found that the community corroborated the need for investment in this corridor.
The Development District
Town officials identified the Five Corners area, currently underutilized due to outdated zoning and poor infrastructure, as a promising candidate for the DIF program due to its strategic location at the intersection of two major thoroughfares (Routes 106 and 123), and its already existing mix of uses. The underlying zoning of the development district is majority business with some residential. However, in 2018 the town passed a Compact Neighborhood Overlay District in part of the Five Corners area. This overlay is in accordance with the Envision Easton Master Plan (2014) and encourages increased housing diversity. With continued smart growth planning, town officials believe this district can transform into a walkable neighborhood with street amenities, greenspace, and mix of businesses, homes, and offices.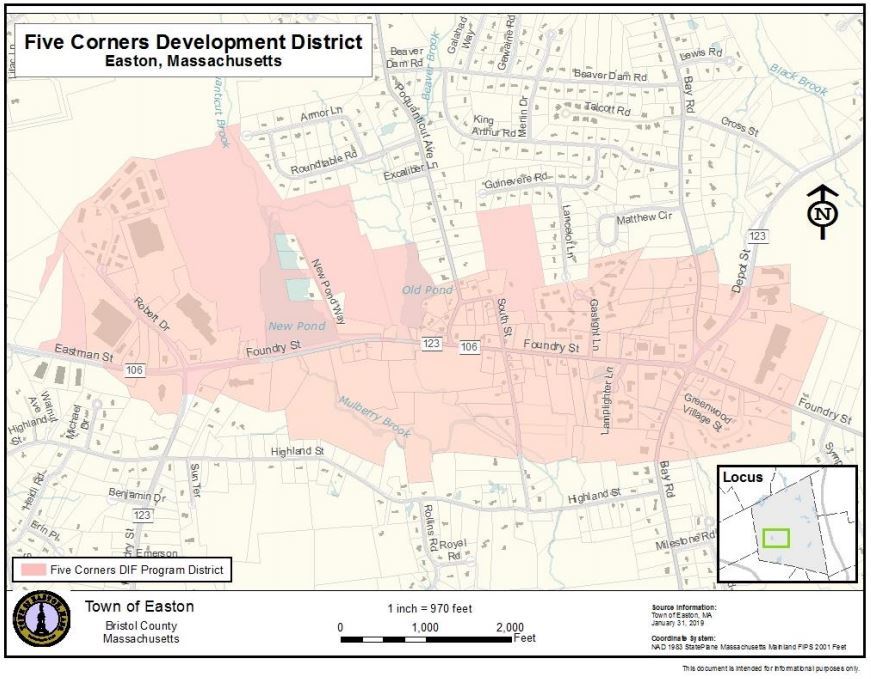 Town of Easton, MA Five-Corners District District Improvement Financing Master Plan (May 2019)

DIF in Five Corners
Smart growth is development that enhances quality of life and strengthens neighborhoods, encourages mixed-use land, improves housing diversity, and fosters community, public, and private partnerships in the process. Here are five ways Easton is supporting smart growth and future development by implementing the DIF Program in the Five Corners Development District:
1. Offsetting the betterment fee costs from the sewer construction for property owners and small business. Camoin Associates determined that the Five Corners DIF, would generate approximately $7.2 million of new growth over 30 years. When applied to the total project costs, the reduction in the betterment assessment benefits property owners in the district, especially those who own multiple properties in the area.
2. Incremental tax revenue for additional infrastructure improvements. The feasibility study found that along with reducing betterment fees of property owners, the development district would potentially capture enough revenue to invest in other infrastructure. This means captured funds could be designated for sidewalk improvements, road updates, or bike lanes. Investment in this kind of infrastructure could make the area less car dependent and allow safe alternatives for bikers or pedestrians.
3. Sewer matters. In Sewage Rules Create Gap in Housing Supply in Massachusetts (2015), Joseph Peznola, PE explains how part of the housing crisis in the Commonwealth is due to the fact that rural and suburban communities are not doing their part in producing housing because of lack of sewer infrastructure. Without sewer, there is a very small window for housing developers to make the number of units financially work while still complying with Title 5. Expanding sewer to this district will attract development, especially housing, and allow Easton to benefit even more from the DIF.
4.Transforming the corridor. The Urban Land Institute (ULI) continues to work with communities across the country through their Healthy Corridors Project. Their report, Blind Spots: How Unhealthy Corridors Harm Communities and How to Fix Them (2019), found that underutilized corridors have a real effect on the surrounding community with regard to safety, economic productivity, transportation, and where people live. ULI's policy and practice suggestions to transform corridors include exactly what Easton is doing: investing in infrastructure, creating incentives to private development, addressing fragmented land use, and assessing community needs and desires for how they want to interact with the space.
5. Communicating a pro-smart growth community. Together, the Five Corner DIF proposal demonstrates the Town of Easton's commitment to creating an economically and culturally vibrant community. Many towns in the Commonwealth are shutting down growth and investment in their communities though exclusionary zoning policies or intentionally prohibiting municipal sewer in places where it should operate. Easton's town officials and residents are countering this narrative by engaging a tool that emphasizes community participation and thoughtful planning.
The DIF proposal for Five Corners passed at Town Meeting on May 20, 2019. Easton's proposal designated 50% of incremental new property tax revenues by the sewer expansion to be captured to offset the betterment fees for property owners in the area. By pledging 50% of the new growth to the DIF, the town still realizes new growth revenue to the general fund. The Town is currently in the process of assessing the zoning bylaw to better compliment the opportunities for development expressed in the community visioning sessions and the market/financial analysis in the feasibility study.
For more information on Easton's DIF proposal, contact the Town of Easton's Planning and Economic Development Department.
For information on using the DIF program in your community, please contact MassDevelopment's Director of Community Technical Assistance, Amanda Chisholm at achisholm@massdevelopment.com.
MHP spoke with Stephanie Danielson, Director of Planning and Economic Development for the Town of Easton, on July 1, 2019. Stephanie has edited the article for accuracy.